Press Release from the City of St. Augustine Beach (April 18, 2019)
"ART CAN!" is an exciting new beautification project in the City of St. Augustine Beach.  Many of the trash cans in the City of St. Augustine Beach are an eyesore; they are dented and filled with holes. Rather than purchase brand new cans, why not recycle and improve the old ones? Art Galleries of St. Augustine (AGOSA) President (Sylvia Gortz), Vice President (Laura O'Neal), and Ann Palmquist brought the idea of asking local artists paint the old trash cans to AGOSA.  The association members were enthusiastic to make our community a more beautiful place and ART CAN! took off.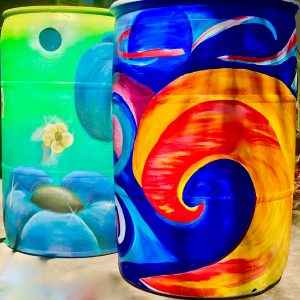 The City of St. Augustine Beach Public Works, under the leadership of Tom Large, began collecting six trash cans at a time and cleaning them so they could be painted by local AGOSA artists. Once the first wave of cans is complete, there will be a second wave of art cans hitting the streets, and so on…until the City of St Augustine Beach has all ART CANS! AGOSA will present The City of St. Augustine Beach with the first painted can at the Special Commission Meeting on April 29, 2019 at 6pm at St. Augustine Beach City Hall (2200 A1A South, St. Augustine Beach, FL 32080.) The meeting is open to the public and the public is invited to attend.
"I hope that this project and others like it will serve our local art community in a positive way," said Vice President Laura O'Neal, "by bringing us together to paint, create, have fun and support one another, as well as beautify our CITY!"
Be sure to start looking on the sides to the road when driving along A1A in St. Augustine Beach, and see if you can spot them! You can also share a pic of your favorite one on Instagram and tag @CityOfSAB and @agosa_art_walk.
AGOSA is a non-profit organization that works to provide opportunities for professional local artists to show their work at places like The Limelight Theatre, in addition to their usual gallery locations. If you are interested in painting a can, or interested in joining AGOSA, please contact Laura O'Neal lauraoneal811@gmail.com or Sylvia Gortz at thegallerygroup303@gmail.com
For more information, please visit www.staugbch.com, The City of St Augustine Beach Facebook and Instagram page, and sign up for the monthly e-newsletter by texting CITYOFSAB to 22828. Artist Credit for the Cans in the Photo: MaryRose LaCavera, Brad Jones, Deane Kellogg